Hall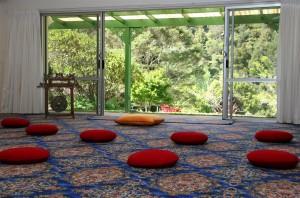 The 80 square metre meeting hall is spacious, well-lit and fully carpeted. It seats up to 70 people.
This versatile area can be used for wedding ceremonies, as a conference space or for yoga or meditation practice.
Comfortable floor cushions are provided for yoga and meditation practice.
 Conference Equipment and Other Amenities
Projector and screen, media player, DVD
player, sound system and whiteboards.
Photocopying and fax facilities are available on request.
The Retreat Centre is equipped with wireless internet.
For any musical needs, please inquire about our Roland electronic keyboard and various percussion instruments.
Telephones are available for local calls. The tranquil atmosphere of the Retreat Centre is enhanced by the absence of cell phone coverage in the area. Toll call facility is available by request.
 Lounge/Dining Room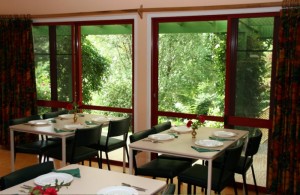 The dining area seats up to 70 for meals. Outdoor dining areas are also available.
Coffee and tea making facilities are available at all times.
A cosy lounge area with armchairs, sofas, and wood burner creates a convivial atmosphere.